Kedungu, Bali 19.5. – 20.5.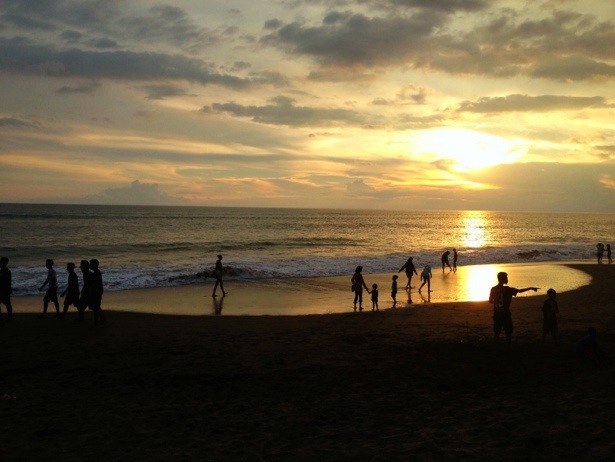 It was time to go on, the waves in Canggu didnt fit our level and there was so much more to discover on this small big island. Thomas, who we met in Bangkok and who just came from Bali gave us a few recommendations. Kedungu was one of them, his favorite place. Quiet beach, not overcrowded and good to surf if the right swell is on. There are not a lot of guesthouses, actually, there a not a lot of houses overall. But there is one fine resort in the middle of the ricefields with Ocean view and 5 minute walk to kedungu beach. Villa Ombak Kedungu, when we finally found it, we had already been lost 5 times on the way, even rode some weird circles, when we expected to be on the right way. I am still wondering how Thomas got to know that place, and my theory is that, he also just got lost while looking for something else, like it seems to happen all the time in bali while riding a scooter. It's pure discovery. And its the way you do it here – by accident.
We checked in. Wonderful, new bungalows, with all the luxury you dont need, but you would never complain about… Due to the luxury and seaview it was a little bit more expensive, but during the next weeks, in comparison to others we have seen and lived in it was still cheap, especially for its quality and interior.
We took our boards down to the beach and hoped, that the small swell on this particular day would be enough for surf at least a few waves. We tried, but couldnt catch any, so just went around swimming, watching a seal or otter next to us and chatting to a local in the lineup. But even then in this calm sourrundings in the water, where there was no power, no sharp reef, no double overhead shocker, i still made it to break my board during that session. Somehow the leash must have been stock in the fishtail and ripped it off. I was shocked and deeply surprised. I wonder what would happen next times, when the big swells coming up. In retroperspective i think, i was just unlucky. In the end it came out well, the bungalow Manager knew a Ding Repair guy from Canggu, who came and picked the board up, to fix it on that very day. Since there was no swell anyway, it was not the biggest loss, to be without a board for a day.
In the evening we bought ourselfs some beer to enjoy the beach by the sunrise, and to calm our – by this shocking accident – frightened souls. It was a Sunday night, and the usually empty quiet beach was crowded to the top. At least 500 scooters were parked on the edge. The whole Balinese youth comes on the weekends to this place, to enjoy romantic sunsets and go for a swim in the waves. There were boys playing beachsoccer, others volleyball and girls doing flick-flacks while other groups practicing a mixture of Capoeira and Thai Boxing. The rest was just sitting around,chatting, eating and drinking. We have been the only not-Balinese people there and a lot of eyes were on us. After Sunset the Moscitos took over and cleaned the beach of people.
And by enjoying music on our terrace we found out, why building huts in the middle of ricefields is not always the best solution. Bugs came out of the fields, attracted by the lights of our Bungalow. They were not biting, but they were many. And they stank.
We moved inside and decided due to the missing swell, my repaired board, which has to be picked up in Canggu, and the bugs to move next day back to canguu, for one more surf before we head up the road farther north.